The Liners Scharnhorst and Gneisenau
By: Daniel H. Jones
---
North German Lloyd, in common with other major German flag carriers, was almost wiped out after the First World War. Their recovery was really quite remarkable, and by the late twenties German shipping companies had returned to a strong position, especially in the lucrative North Atlantic trade. Building on their success in the thirties, Lloyd looked to the Far East for possible expansion. Services to the Orient had existed in name only since the start of WWI. Three years after the Hamburg-America Line and North German Lloyd merged their services in 1930 under the new title of Hapag-Loyd, the two firms decided to build three new "East Asia Express Steamers". These ships were not only for passenger and cargo carriage but were also designed as floating representatives of the German nation and its shipping industry. They were to be capable of attracting continental traffic away from the dominant foreign companies such as P&O, Blue Funnel, and Lloyd Triestino. With this goal in mind, they were planned from the start as very large, fast, and well appointed ships.

Scharnhorst and Gneisenau were ordered directly by Hapag-Lloyd. The third ship, Potsdam, was originally ordered through a Government created affiliate called the Hanseatic Shipping and Operating Gompany. Soon after construction began ownership of Potsdam was reassigned to Hamburg-America, only to be further complicated by the dissolving of the Hapag-Lloyd operating arrangement in 1934. Only Lloyd remained interested in the Far East routes so Potsdam was sold outright to Lloyd. The three ships are commonly listed as sisters but in fact the Potsdam is quite different in detail and is a smaller ship although at a glance she looks the same.

Scharnhorst and Gneisenau began operating on the Germany-Far East routes in 1935 and 1936 respectively. Both ships soon proved to be popular vessels and were regarded as very successful designs. They enjoyed a good reputation for service as well as for their interior decor. One of the features of both was a uniquely German detail, the "Wintergarden", a glassed in area on the top level with tropical plants and exotic birds that served as a public room and dining area. This was located just aft of the funnel.

With the outbreak of war in Europe in 1939, Scharnhorst was caught in the Orient and was unable to return to Germany. She was laid up in Japan. In February of 1942 the ship was sold to Japan and was taken over by the Imperial Japanese Navy. She was moved to the naval yard at Kure in September for conversion to an aircraft carrier. On December 15,1943 she was commissioned into the Japanese Navy as the escort carrier Shinyo. On November 17, 1944, Shinyo was torpedoed and sunk by the US Submarine Spadefish 140 miles northeast of Shanghai.

Her two sisters had remained under German control. Gneisenau served from 1940 as a Naval Accommodation ship. In 1942 plans were drawn up to convert her to an aircraft carrier with the work to be done by the Naval Yard at Wilhelmshaven. Nothing was done to implement this plan. While serving as a transport on May 2,1943, she struck a British mine and sunk east of Gedser. Potsdam also served as an accommodation ship at Hamburg. In 1942 Blohm & Voss submitted plans for an aircraft carrier conversion but like her sister, nothing was done. From December 10, 1942 the ship was based at Gotemhafen (Gyndia). In 1945 she was used to evacuate German refugees from the Eastern Territories escaping from the advancing Russian armies. Potsdam survived the war and on June 20, 1945 became a British war prize, renamed Empire Jewel, and was converted to a troop transport. Renamed the Empire Fowey, she operated as a British flag carrier under management of the P&O Line. Her engines were giving trouble so she was taken out of service for rebuilding in 1947, the work lasting until 1950, and then resumed duties as a troop carrier until 1960. She was sold in 1960 to the Pan-Islamic Steam Ship company. Renamed the Safina-E-Hujjaj, she entered the pilgrim trade operating from Pakistan to Jeddah, Saudia Arabia. From 1964 she also ran from Pakistan to Hong Kong, and from 1965, Pakistan to East Africa. Taken out of service in 1966, she was finally broken up in 1976.

COLORS Hull - black with red boot topping. Upper works - white. Funnel -light buff (yellow tint). Masts and booms - red/brown (somewhat like British R.A.F Earth camouflage color. Decks - wood, unpainted. Steel decks - light gray. Lifeboats - white with gray canvas covers.
1/700 Scale Drawings
Scharnhorst 1939
Deck Plans

Scharnhorst 1939
Side Profile

IJN Shinyo
Scharnhorst as converted
Drawings - Not to Scale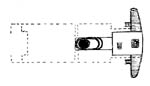 Scharnhorst 1939
Top Deck Plans
This article originally appeared in Plastic Ship Modeler 1994/3 and is reprinted here with the permission of the author and editor.

Copyright © SMML 2003