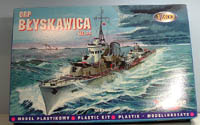 ORP Blyskawica was one of two British designed and built destroyer leaders delivered to Poland in the years immediately prior to the second world war. Designed and built by the firm of J Samuel White, Blyskawica (Lightning) and identical twin Grom (Thunder), were heavily armed, large, fast and designed for Baltic service. Both vessels were fortunate enough to be ordered to the UK at the outbreak of war. While Grom was sunk in 1940 off Norway, Blyskawica survived the war, to be returned to Poland and, ultimately, preserved as a museum ship in the port of Gdansk. Blyskawica is a unique survivor of pre-war British destroyer design and construction, and is a worthy memorial to the role played by Polish sailors in the Second World War.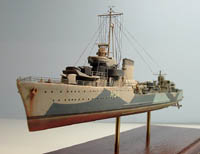 In 1941 Blyskawica's original main armament and heavy mast were replaced, as the ship was apparently overloaded for open ocean service. Blyskawica emerged from refit with a main armament of four twin Mk. XIX four inch mounts and a lighter tripod mast. Later refits saw the close range armament of the ship improved and additional radar, making Blyskawica one of the most formidably and adequately armed destroyers to serve in European and Mediterranean waters. It also served to make the ship even more like its Royal Navy contemporaries in appearance.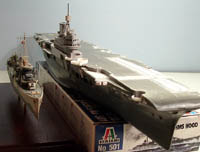 Mirage make a number of kits of both Blyskawica and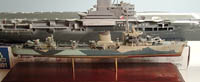 Grom, depicting them in pre and early war fit, and showing Blyskawica in late war (43-44) and post war ('67) guises. I bought and built the 43-44 version of Blyskawica, as I was keen to practice disruptive camouflage painting and weathering techniques, prior to completing my build of HMS Victorious (also shown in some of the images as a size comparison).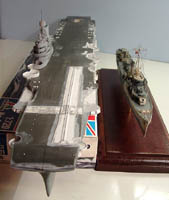 The kit is fairly straightforward and of reasonable quality both in moulding and detail. The only real problems in construction were some gaps in fitting the main deck aft to the hull, some sink marks in the sides of stowage boxes and some evidence of mould damage/deterioration which shows as slight depressions and streaks in the hull sides. It is clearly an earlier effort than Mirage's kit of the French built Burza and Wicher, as this latter kit is much better and more crisply detailed.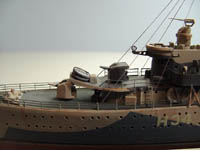 Additions to the kit included some correction of minor detail, replacement of the masts with brass rod and tube, opening up of the solidly moulded funnel cowl and addition of a stretched sprue grille, replacement of kit supplied 20mm guns with etched equivalents, new 40mm barrels added to the kit base (the barrels started life as 5.5 inch guns on the Italeri Hood) and some additional detail to the 4 inch mounts - canvas mantlets, sighting ports and the characteristic rear overhang. There is no specific etched set available for these kits (a pity, as Mirage make one for their smaller Torpedo boat kits and U-Boats) so I made do with odds and sods. Railing, ladders and gunnery radar are from a Tom's Modelworks set intended for KGV, the etched Oerlikons are actually 1/350 from WEM, the parbuckle stowage and stern depth charge rails started life as girder detail for 1/500 scale Japanese aircraft carriers. Anchor chain and the very nice anchors came from the GMM 1/700 'anchor and chain' set. These little etched anchors look great when completed, and the size range is sufficient to do any kind of destroyer in 1/400 scale. Watertight doors are from the GMM 1/400 set.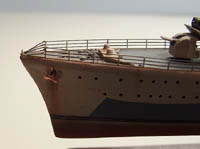 The real fun in this kit was painting. Tape was used to mark out the 'in' strakes of hull plating before the undercoat was applied. Once removed, the hull had acquired the characteristic horizontal strakes of a riveted hull.

I make no guarantees about the actual colours used to depict the Admiralty disruptive pattern scheme. The kit instructions call out Humbrol colours which have no real equivalents. A short discussion with John Snyder of WEM fame came up with some possible Colourcoat RN equivalents for the period in question, but in the end the choice was mine, so please don't beat up on John for my mistakes.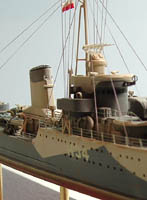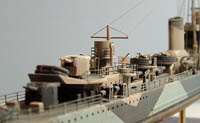 Painting - and weathering - started with the faded black used for the boot topping. After this I mixed three colours to depict the typical weathering and marine growth at and around the waterline. I christened these 'Admiralty bleached weed', which was a white mixed with a tiny amount of green, 'Admiralty Slime Green', which was a stronger mixture of green with white, and 'Dark Admiralty Slime Green', which was a straight Humbrol 149. These were sprayed, from the boot topping down, in the thinnest overlapping bands that I could manage, followed by WEM RN antifouling red. Don't spray red first, unless you want pink weed. Once this was all dry the masking on the boot topping was moved half way up (to where the ship would, I hope, normally ride) and the lightest weed colour was dry-brushed over the exposed area of boot topping and the hull bottom.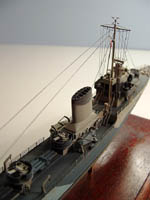 Masking was adjusted, and WEM Colourcoats sprayed for the decks and disruptive scheme. Once this was dry further weathering was undertaken, this time of the above water component of the ship. At bow, stern, and at various points on the hull a rust mixture was used to depict waterline erosion - this starts at a point halfway up the boot topping. Rust was also streaked down the hull, both drybrushed and in small hard dappled streaks, particularly below the hawse pipes and other major drain points. Darker brown tones depict older rust while lighter and more orange shades show recent staining.

Somewhat less rust was used above the main deck, as the crew (even in wartime) could be expected to be able to reach and maintain these areas. I also used the very light green/off white shade as the main drybrushing shade to pick up the hull plating strakes and to
highlight details above deck - this is a handy shade as it makes a very nice 'dried salt spray' as well! Touches of grey, white and brown pastel were used to show soot around the funnel cowling. Even the props are weathered (and also stolen from the Italeri Hood - they are better moulded than the kit supplied versions, if a bit on the small side). They started out as dark bronze green, and were then drybrushed with gold paint to show a fairly dull colour.

Final touches for the build included the decals supplied with the kit, and black decal sheet used to depict the wheelhouse windows.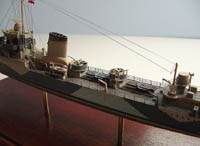 Rigging is a product called 'Ezi-Line', which I had never tried before. It's meant to be used for model railway telegraph and power lines. It's a rubbery material, which stretches into quite thin lines - up to seven times its original length without snapping according to the blurb enclosed with the reel of material. It is easily anchored with superglue and works quite well. Care needs to be taken to use a consistent 'stretch', as it can appear thick if left too slack - the line is actually a flat ribbon, and this is particularly apparent in its unstretched state. I'm not sure that I would use it again for an entire ship's rigging, but it will definitely have applications and it is always nice to try something new. One advantage this kind of material has is that you can glue your signal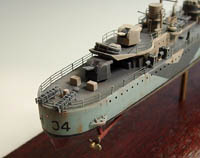 halyards into their flag bags off the model, instal the bags then stretch the lines up to the yard arm and glue - this is a very non-messy way of completing what is often a nerve wrackingly difficult task.

Everything was coated with Floquil flat finish, and Blyskawica was complete.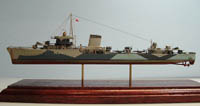 This is a nice little kit and highly recommended if you want a break from more complex builds. It has helped to pleasurably fill in the time while I wait for the photo-etch to finish the bigger ship seen in some of these shots. I also have the Mirage kit of Wicher, and this is little short of superb, with some really excellent detail parts, guns, open lattice supports for platforms and an effective depiction of the hull plate strakes straight out of the box! I am really, really, looking forward to the Mirage releases of four stack destroyers promised for this year, as this is a company that improves its models with every release.