Navires & Histoire
By: Shane Jenkins
---
Well Jacques Druel of L'Arsenal has sent me a copy of this new French mag as he promised for a subjective review. Now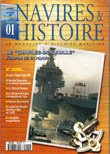 since I can't read French, I'll have to rely on Lorna for translation of it for a proper review, but here's my first impression.
Merde, what a great magazine!! It's well laid out, with plenty of very good, well produced colour & B/W photos & drawings. Those of you who are familiar with French publications, such as Replic etc, will know the quality of the French magazines. I've had the good fortune over the last year to have picked up some Warship Internationals, plus I have borrowed & acquired a lot of Conway's Warship. This magazine has the potential to be a very good competitor to these titles.
It contains articles on the following:
The carrier Charles de Gaulle.
The trio: Titanic, Britannic and Olympic
The Battleship Vittorio Venetto (both 1880's & WW2) and her sisters
The U-boot Type IXB at war and their service in the postwar French Navy.
The Dutch Navy in 1939 on the eve of war.
The Yalu battle (17 September 1894)
The warships of the Industrial Revolution
The sailing ship (Ironclad??) Duguay-Trouin 1805
All articles have a very good selection of photographs. There is a news section, book reviews & 7 pages of kit reviews covering resin, injected & etched brass. While I don't see it at the moment replacing mainstream model magazines (such as PSM, SMI, FSM, etc), at the moment it is a highly useful addition to the mainstream model magazines. Although I think they will stay with reviews only & not branch out into model builds, conversions, etc.

So, in conclusion, if you see it - get it, it's worth it for the pictures alone (this is coming from someone who always hesitates before buying non-English books just for the photos, since I'd like to be able to read it as well). They have started out with a very impressive base on which to improve over subsequent issues. If I've read it right, it retails for 69 Francs (approx AUD$17.00) & is a quarterly publication. I just wish the French & other non-English publishers would realise the market for an English translation of this & other excellent magazines.

My thanks again to Jacques Druel of L'Arsenal for sending me the copy.