USN PT Boat
Testors 1/187
By: Tim Reynaga
---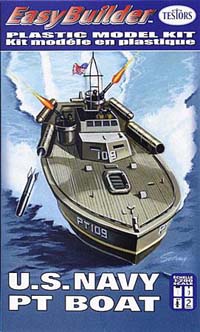 Do you remember Hawk model kits from the 1960s? Among their offerings were a number of small "box scale" nautical subjects including a USN destroyer, a Coast Guard cutter, an LST and a PT Boat. Not seen for over thirty years, these kits have recently resurfaced under the Testors label as the "EasyBuilder" series. They are inexpensive, simple kits which make ideal beginner models, building easily in just a few minutes.

Among these is the U.S. Navy PT Boat. Billed by Testors as 1/200 scale on the box and 1/160 scale on the instruction sheet, this 5 1/8 inch long model actually scales out to about 1/187 scale. Testors have made no alterations to the basic Hawk kit parts-in fact, the hull still has "Copyright Hawk 1967" engraved on the inside! The one addition with the new release is a nicely printed microscale decal sheet with "PT109" in large shaded characters. (By the way, these markings are accurate for PT109 only when the boat was painted haze gray before deployment to the Pacific; in the Solomons PTs were repainted forest green with small white numbers). The model parts come molded in a semi-opaque white plastic, an odd choice which makes painting necessary-come on, Testors, what would have been wrong with gray or green? The eighteen parts are crisply molded and generally accurate, though some flash, knockout pin marks, and sinkholes are evident. Also, the guns are a bit crude. Still, this little model is accurate in outline and surprisingly detailed with suitably busy surfaces showing raised deck planking, hatches, cleats, and other hardware; the liferaft even has tiny oars in it. This is one of those kits which can be built into a pleasing replica in an afternoon or, with more work, into a superdetailed masterpiece. Though simplified, the basic shapes are there for a credible 80 foot Elco type World War Two PT boat.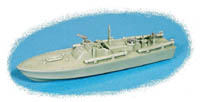 I've seen the old Hawk model kits go for US $25-30 because of their collectible value, so it is great to see them re-released at something more like their original cost. The Hawk PT boat was a good kit in its day, and the Testors reissue is well worth the price.
Copyright © SMML 2003